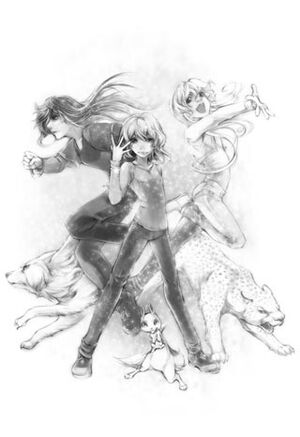 Team Magic is the the three mages, their bondeds, and the magical creatures who help them at Ravenswood Preserve. They are:
The Mages
Edit
Bond(s): As the Healer, Emily is bonded to all animals, though she is very close to Ariel, a snowy owl, Phel, a fairy creature, Lorelei, the unicorn, Riannan, a unicorn princess, and Ozzie, an elf disguised as a ferret.
Paladin: Indigo, better known as "Indi", originally a shapeshifting Power Crystal, he settled into the form of a Unicorn Stallion to bond with Emily.
Bond(s): The mistwolves Stormbringer & Dreamer, and Drake the red dragon
Paladin: Stormbringer
Bond(s): The D-Flies, and Lyra the magic cat
Paladin: Starfire the Firemental Stallion
Bond: Himself (debated)
Paladin: Phelonius the Fairy Creature
Bond: Drake the red crystal dragon, Wind Dancer (deceased)
The magical helpers
Edit
Balthazar, a pegasus
Rommel the Wommel
Eddie the Brimbee
Tweek, the Experimental Fairimental
Community content is available under
CC-BY-SA
unless otherwise noted.