Stormbringer

'
Background Information

Gender

Female

Species

Age

Unknown

Homeworld

Earth

Affiliation

Magic

Shapeshifting
World walking

Bonded
Stormbringer / Storm is a white female mistwolf. She is the first bonded of Adriane and is also her paladin.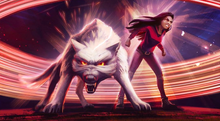 Stormbringer had escaped the Dark Sorceress, and was thought to be the last of her kind. Adriane became a mage when she bonded with Storm. Storm is very wise and strong, and though she lives on Earth, she is part of the Mistwolf pack, like Adriane.
In Trial by Fire, Stormbringer is thought to have died due to the Black Fire. It is revealed in Ghost Wolf that Storm was not dead, but stuck in mist form since Trial by Fire.
Official description
Edit
Magic: Elemental earth. Spirit of Ravenswood.
Appearance: Powerful mistwolf with silver fur that fades to white. Golden eyes rimmed in charcoal.
Personality: Loyal. Fierce. Selfless.
Facts: Bonded to Adriane. Sacrificed herself to save the mistwolf pack from the Dark Sorceress.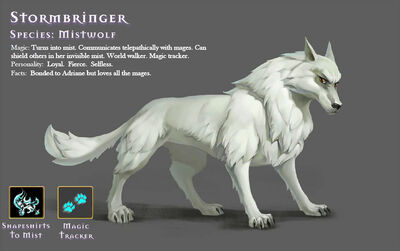 Appearances
Edit
References
Edit
External links
Edit
Community content is available under
CC-BY-SA
unless otherwise noted.