Ravenswood Preserve

A map of Ravenswood
Information
Location
Stonehill, Pennsylvania, Earth
Inhabitants
Adriane Charday
Nakoda Charday
Aldenmor refugees
Ravenswood Preserve is a wildlife preserve for animals near Stonehill. It is secretly a refuge for magical creatures operated by the mages. The owner is a man named Henry Gardener who mysteriously disappeared, leaving Adriane's grandmother Nakoda as the de-facto caretaker.
Ravenswood is the site of many happenings and events in the series as the mages work together to protect magical creatures and defend the preserve from the evil of the Dark Sorceress.
Locations
Edit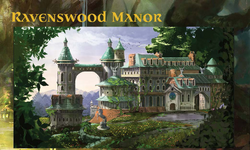 Ravenswood Manor - Gothic manor house on the Preserve.
The Sculpture Gardens
The Rose Gardens
The Topiary Gardens
The Water Gardens
Adriane's House
The Mist Trail
Wolf Run Pass
The Hedge Maze
Turtle Bog
Swan Lake
Swan Lake Trail
Rocking Stone - Ancient Indian totem shaped like a towering granite arrow, near the magic glade in Ravenswood. The tower points to the portal in a field in Ravenswood.
Mirror Lake
Hidden Falls Trail
Eagle Ridge
Bamboo Forest
Owl Creek Bird Sanctuary
Deer Meadow
Magic Glade - Beautiful glade that is the heart of Ravenswood's magic.
The Portal Field
Community content is available under
CC-BY-SA
unless otherwise noted.