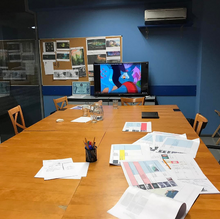 Princess Gwenevere and the Jewel Riders (known as Starla & the Jewel Riders in the export English version), is a 1995-1996 fantasy animated series by Robert Mandell. Jewel Riders later directly inspired both the books series Avalon: Web of Magic and its animated adaptation.
In the show, the titular young heroines, Princess Gwenevere (named Starla in the Starla version) and her fellow teenage Jewel Riders—Fallon and Tamara—are sent by their wizard mentor Merlin on a great quest to save their enchanted kingdom of Avalon from the threat of the evil sorceress Lady Kale. The three girls share a special bond with their animal friends and each other, which allows them to work together as a team. Aided by the boys of the Pack, they go on their adventures to use their friendship and the magic of Enchanted Jewels in order to bring the now exiled Merlin back home, defeat the powers of evil, and return order and goodness to the land.
In an interview, Avalon author Rachel Roberts said: "Love the show, it's a terrific TV series for younger girls. The owner of Red Sky (which owns the Avalon: Web of Magic copyright) created the Princess Gwenevere series. We have worked together to lay out the Avalon stories. There were lots of good ideas in the Gwenevere series that are being explored in much greater depth with Avalon."[1]
References
Edit
External links
Edit
Community content is available under
CC-BY-SA
unless otherwise noted.