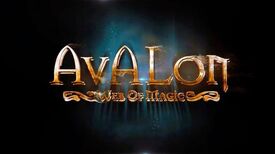 Avalon: Web of Magic is or was a project to create a computer-animated series based on the book series of the same title. It was to be directed by Robert Mandell and co-written by him and Rachel Roberts.
Synopsis
Edit
Emily Fletcher, Adriane Charday, and Kara Davies, three very different girls-turned-mages (mages are highly skilled "magic users"), band together to protect and find Avalon, the very source of all magic. Each girl has a bonded animal and magic stone; their animal friends help them on their magical journeys through the different worlds along the Web of Magic. The safety of the Magic Web, and the worlds it connects together, hangs on their success as they battle two main antagonists, the Dark Sorceress and the Spider Witch, who wish to harness the tremendous magical energy and magic of Avalon and distort the Magic Web for their own evil ends. The titular Web of Magic is a web on the magical, mystical plane of existence, connecting all worlds and planets with each other through mystical portals.[1]
Production
Edit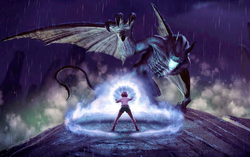 The cartoon project (following an earlier-canceled TV live-action film adaption several years prior) was revealed in 2017 as a co-production between Bridgegate Pictures, Minds Eye Entertainment, Moving Pictures Media and Red Sky Entertainment. It was to be made by the American company voyager.world, working with first the Ukrainian animation studio Film UA Animagrad[2] and then with the New Zealand animation studio Mechanic Animation.[3]
It was being mainly written and directed by Robert Mandell, creator of Princess Gwenevere / Starla and the Jewel Riders, and would feature Canadian voice actors.[4] The show was to "pretty much follow the books, breaking them up in serialized eps" with 26 episodes for the first season. The books' author Rachel Roberts was "in charge of story editing and wrote the pilot script."[5]
As of April 2019, the cartoon was slated for production from July 2019 to 2020/2021.[6] It might have been quietly canceled in September 2019 when the voyager.world Instagram account with updates was deleted along with the Mind's Eye Entertainment page,[7] with no further news as of January 2020. The IMDb entry also no longer exists.
Original designs (2017-2018):
"Pre-teen" redesigns (2019):
Voice cast
Edit
2017 cast:
Britt McKillip (voice of Princess Cadence on My Little Pony: Friendship Is Magic)
Sunni Westbrook
Rebekah Asselstine
Cathy Weseluck (voice of Spike on My Little Pony: Friendship Is Magic)
Michael Antonakos
References
Edit
Community content is available under
CC-BY-SA
unless otherwise noted.